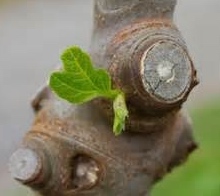 I'm not fond of the idea of having any of my limbs severed.  That's probably why my attempts to prune the trees in my yard fail.  It seems such a harsh practice.  Now, a snip here, a snip there to shape a plant seems perfectly reasonable.  It's like giving it a haircut.  But lopping off a whole branch, in my mind, means certain death.
That's exactly what I felt was happening during our trials and testing.  (See, It Always Works Out)

God and I were still heading in the same direction together, but the sudden change of terrain and unexpected halt led me to question and misunderstand His intentions.  We turned out being of two different mindsets.  I was in continued growth mode.  God was in cutting away mode.
"I am the true vine, and My Father is the Vinedresser."  (John 15:1)
The dark season we were encountering provided the perfect environment for God the Vinedresser to tend to the kind of care that was necessary for the abundant growth He was looking to produce in and through us.  It was pruning time.
My heart and mind, though, were in forward momentum, and my sights were locked on continued growth and producing fruit…all good things!  The abrupt halt and the increasing lack threw me into confusion and fear.
The line of questions that erupted did everything but settle the matter.  As reasonable as they were, they simply missed the target:  Did we not hear You right?  Where did we go wrong?  If this is a test, what do we have to do to pass?  If this is an attack from the enemy, why is he winning?
Everything looked and felt like a dead-end, and we didn't know why.
There was only one thing left to do.  Total trust and surrender to something I didn't understand God was doing.  If I was to believe that "it always works out," then I had to settle on the fact that it was going to happen.  So long as there was a shred of life in Forget-Me-Not, I had to believe God still meant for it to be.  The fuel that kept that conviction burning was a resolute belief in God's perfect love for us. He wasn't punishing us.  He wasn't leading us into ruin.
The truth was, we weren't at a dead-end…. We were at a crossroads.
Crossroads…the place of critical choices.  Abandon the journey and turn toward another direction, or stay the course.  Abandoning meant running the risk of hitting a real dead-end.  Staying the course meant accepting the fact that we couldn't go on until God had His way with us.
It's hard to make sense of what God does sometimes.  (Isn't that why Isaiah 55:8-9 is quoted so often?)  Why should we expect that God would birth a ministry, let it grow, and then chop away at it, leaving it barely alive?  Because He's the Master Vinedresser.
"Every branch in Me that does not bear fruit, He takes away; and every branch that bears fruit, He prunes it so that it may bear more fruit."  (John 15:2)
It really felt as if God was killing our ministry.  He knew He wasn't.  What was killing us was our reaction to the pruning.  Every doubt, every outburst, every worry only led us to dead-end thinking, and instead of bearing fruit, we were drying up.
Did we need pruning?  The very act revealed we did!
Are you experiencing something that looks like a dead-end in your journey?  If you look hard, you may find you're really at a crossroads, instead.  Does God have you there for some healthy pruning?
Welcome it.  Learn from it.  Grow from it.  Produce from it.