Connecting To Be Connectors
We love visiting churches.  Whether it's catching up with friends we haven't seen for a while, or discovering and making new friends, we always get excited for the chance to share life with the extended family of Christ.
We also love being connectors in God's family.  One aspect of introducing people to Forget-Me-Not Ministries is that we get to connect them with people we know and love who are serving in the mission fields of the world.  It's remarkable how many of those connections develop into meaningful friendships and lasting purposes for the Kingdom!
Let us do good to all people, and especially to those who are of the household of the faith.  (Gal. 6:10)
Throughout this first half of the year, we've been visiting churches close to our home in the Washington, D.C. area.  And those visits have had a very specific purpose—connecting the Body of Christ to missionaries in Ukraine.  If you read our post of May 19, "Living Deep in the Danger Zone," you know that missionaries score three times higher and beyond average stress indicators for critical physical, emotional and mental health problems.  If that was the case for missionaries in Ukraine before last November, imagine where they're at now after many of them have been forced to leave the country, or relocate to other regions, and reconcile fears and uncertainties that they've never before been accustomed to.  These frontline warriors need to be encouraged.
Everyone Gets Blessed!
Our method for connecting churches and missionaries has been simple…through good ol' fashioned notecards.  When we first came up with the idea several years ago, we were afraid there'd be little enthusiasm for it, since handwritten notes seem to be such an outdated practice these days.  However, when we introduced the concept at CreationFest in 2012 in an effort to connect people to missionaries worldwide, we were stunned to discover that people were more than happy to handwrite notes of encouragement (even if they had never written a missionary beforehand).  That, with the added convenience of leaving the postage and mailing to us, couldn't make it easier.  And then, a few weeks or so later, the surprise of receiving a reply from a new-found friend on the mission field certainly makes the five-minute investment eternally worthwhile.  Everyone gets blessed!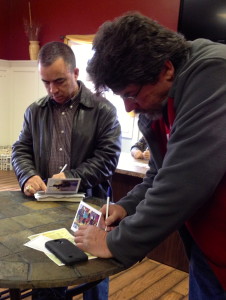 We don't always hear about the relationships that grow out of these connections, but the reports that do come our way never cease to astound us.  We oftentimes hear of how the perfect words arrive at just the right time to make a tremendous impact in a missionary's life and ministry, and they had no idea that the card was coming.  (We don't match cards with missionaries; we trust the Holy Spirit to do that, and He does a marvelous job!)
Of all that has been occupying our time, this simple act of connecting the family of God to missionaries in Ukraine to encourage them in such a precarious time for the whole nation has been one of the highlights of the year for us, so far.
Connecting With All the Nations
We realize that throughout the whole world, missionaries are striving for the sake of the gospel amidst extreme challenges.  We don't want any missionary to feel forgotten!   Help us reach more missionaries by:
Connecting us with the missionaries you know
Inviting us to share at your church
Financially support our efforts to minister to missionaries in the field (our current need is support to return to Ukraine in the fall)
Contact Us:
missions@forgetmenotministries.org
703-665-0718